Province of Ontario has very lucrative financial incentives for solar energy called Feed-In-Tariff (FIT/microFIT). By installing a solar panel system on you roof or land you can earn passive income and help the environment. Watch the video below to get an overview of how it works:
This movie requires Flash Player 9
Source: Ontario Power Authority
Consider the benefits of generating green energy from renewable sources such as the sun, wind, water or bioenergy, and selling it for a guaranteed price. You can be part of Ontario's growing green energy movement, make money and contribute to a cleaner environment. Solar industry is growing rapidly in Ontario due to very advantageous government incentives under Feed-In-Tariff (FIT/microFIT) program.
If you are a homeowner, farmer or small business owner, you have the opportunity to develop a very small or "micro" renewable electricity generation project (10 kilowatts or less in size) on your property. Under the microFIT Program:
you will be paid a guaranteed price for all the electricity your project produces for at least 20 years.
you will help replace coal-fired generation across the province by 2014 and reduce greenhouse gases and other pollutants
you will help create new local businesses and green jobs in Ontario
How will the new microFIT program benefit me?
A sloped roof residential 10 kW rated Grid Tie Solar PV system based on an annual average of 4 peak sun hours per day;
10 kw x .8 (20%) derate factor = 8 kW
8 kW x 4 peak sun hours/day =  32 kWh/day
32 kWh/day x 54.9 cents/kWh = $17.57 /day revenue
$17.57 x 30 days (x365/12 method) = $527.04 average per month income or $6,325 annual revenue.
ROI and Payback
$40,000 investment / $6,325 = 6.3 years Payback !
$6,325 / $40,000 = 0.15 or 15% ROI !
The following table describes the Solar PV installation, which is eligible for microFIT: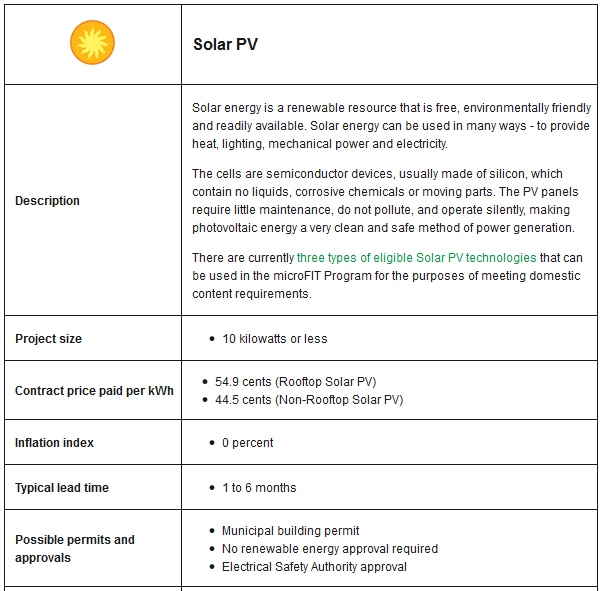 Source: Ontario Power Authority
Next Steps
There is a wide range of solar solutions and prices that can dramatically affect returns on your investment. If you are not sure what you are looking for or already have few quotes, this resource will help you save a lot of your time and help make a better decision when shopping for a solar panel system for your home or your business. Rather than contacting every solar panel installer one-by-one, you can fill the request form and we will help you get proposals from the leading solar panel companies in Ontario. If you are unsure of how to approach the purchasing of a solar panel system, take a look at purchasing guide.