January 13, 2018
Ontario to transition to a new solar rebate program.
The 2017 Ontario Long-Term Energy Plan expressed a commitment to supporting the transition to Net Metering as a replacement to the FIT program. In addition, the Ontario government is now considering a new incentive program to help home and business owners install solar panels on their rooftops. The new program would rely on proceeds from the cap and trade program rather than adding cost to electricity bills.
The Solar Industry Employs 6,500 Ontarians: The establishment of a new solar incentive program will help to sustain Ontario solar jobs and maintain Ontario's position as a solar energy leader throughout Canada and the world.
Consumers Need More Choice: 84% of Canadians wish to see more solar energy on the grid (Source: Abacus Data). Both residential and ICI consumers need more choice to better manage their energy needs and to lower their electricity bills and carbon footprint.
Solar Energy Reduces GHG Emissions: A solar PV program for both the residential and ICI sector is projected to reduce GHG emissions by 11 million tonnes over the life of all solar PV projects. This will help protect our environment today and for future generations.
December 03, 2017
microFIT program reached the 50MW Annual Procurement Target
As of December 1, 2017 the 50MW Annual Procurement Target is reached, and the IESO has now stopped accepting any new applications for the microFIT program. The application window is now officially closed. If you submitted your application prior to this date, there is still a chance it will be reviewed, but only if the capacity becomes available again before December 29th, 2017. Current applications that have been set to pending LDC offer to connect status by this date, will still be processed in accordance with the microFIT rules.
If you are still interested in installing solar panels on your roof under the Net Metering Program, please contact us, and we'll speak with your local distribution company to determine if there's any capacity left.
The microFIT program was first introduced in Ontario under the Green Energy Act in 2009 and turned out to be a huge success for Ontario! There are more than 26,000 microFIT contracts executed up to date with the total capacity of more than 228 megawatts!
But most importantly, our province has been able to get rid of dirty coal-fired power plants, jump start the solar industry, and become of the world leaders in the renewable energy sector!
November 10, 2017
7.5 MW remaining   
According to the latest IESO report from November 10th there have been 870 microFIT application submitted this year, with only 7.5 MW remaining in the 2017 Annual Procurement Target. Should the Annual Procurement Target of 50 MW be reached before December 28, 2017, the IESO will immediately stop accepting applications.
If you are still planning to go ahead with your microFIT project, it is extremely important to contact your Local Utility Company (LDC) and receive your Offer to Connect prior to December 29, 2017. Otherwise your microFIT application will be terminated. Applications that have achieved Pending LDC Offer to Connect status will continue to be processed.
The Ministry of Energy recently published its 2017 Long-Term Energy Plan, which, among other things, outlined how the government is enhancing the net metering program to give businesses and consumers more opportunities to generate and store renewable electricity.
July 12, 2017
2017 is the last year for microFIT 
As per latest announcement from the IESO, 2017 will be the last year they are accepting applications for the microFIT Program. The IESO will accept applications under the microFIT Program up to and including Thursday, December 28, 2017, or until the 50 MW procurement target is reached. As of July 7, 2017, there was 28 MW remaining in the 2017 procurement target.
January 10, 2016
New Year, new rates, new microFIT version 4.1
On January 4, 2017 the IESO started accepting new applications for microFIT program version 4.1. If you are planning to submit yours through the online portal, please make sure you are using the latest versions of the prescribed forms, otherwise it will be rejected. Once again, here's a look at the new 2017 microFIT rates:
The microFIT Procurement Target for 2017 stays at 50 MW. Please keep in mind 2017 will be the last year of the government solar incentives under the microFIT program. After that solar Net Metering will become the primary source for installing distributed solar generation in Ontario.
December 12, 2016
microFIT solar version 4.1
If you still haven't received your microFIT Application Approval Notice from your local utility company, please hurry up! Give them a call and ask to report your Offer to Connect your solar panels project to the IESO no later than 12:00 p.m. on December 23rd. Otherwise your microFIT application will stay in Pending Connection mode, and will be subject to microFIT version 4.1 and 2017 FIT/microFIT pricing schedule.
On January 1st, 2017 new prices for residential microFIT solar panels projects will kick in. No other changes have been implemented at this time.
November 11, 2016
Applications for FIT projects are now being accepted
The procurement target for commercial solar FIT 5 program is only 150MW, so if you are looking to install a small FIT project (between 10kWp and 500kWp), now is a good time to submit your application to the IESO! The window closes on  November 25, 2016, at 12 p.m. (EPT)! If you miss it, the only other available option would be commercial solar Net Metering.
Please carefully review the latest versions of the program documents and rules (posted on the IESO website on September 21, 2016). You would also be required to deliver a hard copy of application materials and payment to the IESO's office no later than five Business Days after the date of submitting the electronic Application Form.
Please keep in mind Applications cannot be revised after they have been submitted. Please ensure your Application is complete and accurate before you submit it!
Contact us for further details! 

November 9, 2016
Updates on microFIT application process
Current application processing time is approximately 60 days. This is due to a current back-log, a bit more complicated and time consuming review process, which is aimed at protecting customers. Yes, please BEWARE, there are some solar companies out there who were (or still would be) filling out a microFIT application on your behalf, receive an approval from the Government, and then show up at your door one day telling you are 100% approved, and asking you to sign on the dotted line right away…
This is why IESO and your local utility want to make sure you fully understand the program, contract details, terms and conditions, microFIT rates, etc. Please make sure you keep login and password information to your microFIT home page to yourself!
Hopefully once the IESO team handling the applications gets used to the new review process, the whole process will become streamlined and turn-around times will improve.
Even if it takes a little bit longer than anticipated, please don't give up! You are doing something that is not only good for yourself, your house, but also for the environment!
THANK YOU VERY MUCH for going Solar!
September 1, 2016
New microFIT/FIT 5 rates 
On August 31, 2016 the IESO (former OPA) posted the new microFIT and FIT rates effective January 1, 2017. This time they've consulted with the public and interests groups (like CanSIA), received project cost and pricing data from external consultants, as well as gathered information from key international reports and research papers. It was noted that cost reductions for microFIT projects have not been as rapid as those for larger system sizes, therefore, prices for microFIT projects remained roughly the same. Here's a quick comparison table:
2016 vs 2017 Price Comparison

Feed-in-Tariff Program Pricing (¢/kWh)


Project size
June 21, 2016 Current price
Jan. 1, 2017 Pricing
Percentage Change
Solar PV Rooftop
≤ 6 kW
31.3
31.1
0.5%
> 6 kW ≤ 10 kW
29.4
28.8
2%
> 10 kW ≤ 100 kW
24.2
22.3
8%
> 100 kW ≤ 500 kW 
22.5
20.7
8%

 

 

 

 

 

Solar PV Non-Rooftop

≤ 10 kW

21.4

21

2%

> 10 kW ≤ 500 kW 

20.9

19.2

8%
If you want to qualify for microFIT 5 rates, your solar panels system would have to be installed no later than Mid-2018 (rooftop microFIT) or early 2019 (rooftop FIT). More information on the official IESO website.
July 8, 2016
New applications are now being accepted under the new microFIT 4.0
The IESO (former OPA) is planning to start a review process of current microFIT and FIT programs to ensure both ratepayer value and a reasonable return on investment. If you are interested to provide some feedback to the IESO regarding current solar panels incentives programs, you are welcome to do so by filling out the attached Questionnaire  and e-mailing it to microfit@ieso.ca. 
June 21, 2016
New applications are now being accepted under the new microFIT 4.0
As of today, the microFIT program is up and running again! The IESO has started accepting new applications for solar panels installations under the new microFIT 4.0 rules. One of the biggest changes is the introduction of the new tranche for solar panels project size. If you are planning to install 6.0 kW (or less) of solar panels on your roof, you will be getting the highest price currently available, which is 31.3 cents per kWh. Please click here to read the final microFIT version 4.0 rules, contract and supporting documents.
It is time to call your solar panels installer and submit your application before 50 MW procurement target for 2016 runs out!  
April 25, 2016
microFIT program is suspended until July 2016.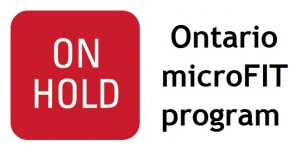 Well… it took less "than a few weeks" to hear back from the IESO. Today they announced a temporary suspension of the microFIT program. As stated "it has been initiated due to irregularities within the application process that suggest Applicants and third-party representatives are not following proper procedure when making legal declarations." To address this, the IESO will be making changes to the microFIT Rules to include the requirement to have the Applicant Declaration Prescribed Form be notarized (or similarly confirmed) before it is submitted. This and some other changes are going to be discussed in details during Solar Ontario 2016 on May 16&17, 2016 in Niagara Falls.
The IESO is planning to implement the revised microFIT Rules (microFIT 4.0) in July 2016, at which point the microFIT Program will re-open again to accept new Applications. If you are planning to participate, we encourage you to choose your solar panels installer, finalize your system design, and begin working on the submission package. 
April 10, 2016
New microFIT program rules, version 4.0 
The IESO (former OPA) is currently working on the new microFIT 4.0 rules, which are set to kick in mid-2016. Some of the major changes would include:

Introducing a new size tier for microFIT projects that are 6 kW or smaller. If you want to quality for the new rate, you'd have to wait and apply under the microFIT                 4.0 rules. If you are still planning to install between 6kW and 10kW, you'll get the                  same rate that's currently set up for 2016 (see table below).

Allowing you to connect your microFIT project in-series with your meter, IF your local distribution company approves your request for connection (form C).

Requiring you to provide a signed and notarized declaration confirming you've read and understand microFIT rules, and have Internet access to log-in into your                            microFIT account (home page).

Clarifying schedule of payments in case microFIT project is breached.
We are hoping to get more details in the next few weeks. Stay tuned!
December 16, 2015
2015 Procurement Target for microFIT projects
On December 10th, 2015 the IESO (former OPA) reported that the 50MW procurement target for microFIT projects has been achieved. They will continue processing applications if capacity becomes available. Please be reminded that you can still qualify for the 2015 microFIT rates only if you receive Application Approval notice prior to January 1, 2016. If you already received an Offer to Connect from your local utility company, but the status of the Application has not yet changed to "Pending Connection", you might want to contact your Local Distribution Company as soon as possible. More information can be found on the IESO microFIT website.
September 17, 2015
New pricing schedule for 2016 FIT and microFIT.

If your microFIT project application does receive an Approval Notice by January 1, 2016, it will be a subject to the new rates. For FIT projects new pricing will apply to any FIT contracts that are offered after January 1, 2016, including FIT contracts offered through the FIT 4 procurement. Here's the new pricing schedule from the IESO, effective     January 1, 2016 for FIT and microFIT:
Renewable Fuel
Project Size Tranche*
Price (¢/kWh)
Escalation Percentage**
Solar (PV) (Rooftop)
≤ 10 kW
29.4
0.00%
> 10 kW ≤ 100 kW
24.2
0.00%
> 100 kW ≤ 500 kW
22.5
0.00%
Solar (PV)
(Non-Rooftop)
≤ 10 kW
21.4
0.00%
> 10 kW ≤ 500 kW
20.9
0.00%
On-Shore Wind  
≤ 500 kW
12.8
20.00%
Waterpower  
≤ 500 kW
24.6
20.00%
Renewable Biomass  
≤ 500 kW
17.5
50.00%
On-Farm Biogas 
≤ 100 kW
26.3
50.00%
> 100 kW ≤ 250 kW
20.4
50.00%
Biogas 
≤ 500 kW
16.8
50.00%
Landfill Gas  
≤ 500 kW
17.1
50.00%
July 17, 2015
2016 FIT and microFIT price review. 
In order to determine FIT and microFIT pricing for 2016, the IESO has commenced the annual price review. If you are interested to provide your own input, please feel free to fill out a questionnaire on the IESO's website (link here). Your responses received will form an important part of the review process, and help the IESO develop the 2016 pricing schedule to ensure fair market feed-in-tariffs, and reasonable rate of return for investors. You may send your completed questionnaire to FIT@ieso.ca before Friday, August 14th, 2015 deadline.
April 24, 2015
5 changes to the microFIT program you should know about:
Here is what IESO (former OPA) is considering to do:
1.      Keep microFIT program open only for solar PV, and remove all other types of renewables
Over the last few years the microFIT program has primarily become a solar PV program. 90% of the submitted applications received were for solar rooftop projects, 9% for ground mount, and only 1% for other types of renewables. As far as awarded contracts is concerned, 95% were for rooftop, and only 5% for ground mount installations.
2.      Roll unused portions of procurement targets for 2013 and 2014 into 2015
Approximately 50% of 2013 and 2014 procurement targets were never claimed, and therefore not awarded. These numbers got rolled over into 2014 and 2015 respectively. Up to date, there is still 40MW out of 80MW capacity available.
3.      Open microFIT program to other eligible participants and allow 2 or even 3 solar PV projects per applicant.
In order to drive up the number of solar applications, the IESO is looking to open the program to the other participants. These would include charities, conservation authorities, and businesses. Furthermore, the quantity of allowable projects per applicant might increase to 2 or 3. Previous and current owners are encouraged to participate as well! Hopefully this would drive the microFIT program forward, and increase the number of applications.
4.      Propose an "IN SERIES" meter connection configuration.
Since May 2010 an "in series" connection configuration hasn't been allowed by the OPA (more on this here ). IESO is looking to meet Measurement Canada's requirements regarding this type of connection and lift the restriction. With this change the IESO is expecting connections to become less costly and complex for urban residences.
5. Extend duration for connecting microFIT project from current 180 days to 240 days.
If applicants require more than 180 days to connect their project (from the date Application Approval Notice is received), they would still be responsible for extending and maintaining a valid LDC authorization to connect.
January 1, 2015
OPA merges with IESO
The Ontario Power Authority (OPA) is merging with an organization called Independent Electricity System Operator (IESO), whose role is to balance "demand for electricity against available supply through the wholesale market and directs the flow of electricity across the transmission system". MicroFIT program will be administered by the IESO from now on. More information on the merger on the official OPA website:  https://microfit.powerauthority.on.ca/
December 22, 2014
New pricing schedule for FIT and MicroFIT projects

If the status of your microFIT application does not change to "Pending Connection" prior to January 1, 2015, it will be a subject to a the new FIT/microFIT schedule. Here's the new pricing schedule from the OPA, effective September 30, 2014 for FIT and January 1, 2015 for microFIT:
Renewable Fuel
Project Size Tranche*
Price (¢/kWh)
Escalation Percentage**
Solar (PV) (Rooftop)
≤ 10 kW
38.4
0.00%
> 10 kW ≤ 100 kW
34.3
0.00%
> 100 kW ≤ 500 kW
31.6
0.00%
Solar (PV)
(Non-Rooftop)
≤ 10 kW
28.9
0.00%
> 10 kW ≤ 500 kW
27.5
0.00%
On-Shore Wind  
≤ 500 kW
12.8
20.00%
Waterpower  
≤ 500 kW
24.6
20.00%
Renewable Biomass  
≤ 500 kW
17.5
50.00%
On-Farm Biogas 
≤ 100 kW
26.3
50.00%
> 100 kW ≤ 250 kW
20.4
50.00%
Biogas 
≤ 500 kW
16.8
50.00%
Landfill Gas  
≤ 500 kW
17.1
50.00%
December 20, 2013
microFIT applications currently in review

The OPA has made a decision to keep the current applications submitted before December 31st, 2013 as active! As a general rule these could have been terminated, but as per recent announcement, applications will be carried over into 2014 regardless of whether they've  received Approval Application Notice or not. Also, as of December 13, 2013 the OPA is showing 16.8 MW remaining towards announced in August 30 MW procurement target. This is more than 50%! The remainder will most likely be added to the 2014's 50MW target.
November 1, 2013
microFIT pricing for 2014

The microFIT pricing schedule review for 2014 is completed. For the first time in the history of the microFIT program in Ontario the Feed-In-Tariffs remain unchanged! This is an excellent news for everyone who's looking to install solar panels systems on their roofs! This price will apply to any new contracts that are issued on or after January 1st, 2014. An official release can be found on the OPA website athttps://microfit.powerauthority.on.ca/news/new-fitmicrofit-price-schedule-available
August 29, 2013
microFIT 3.0 is launched!
MicroFIT program is up and running again! As of yesterday, August 28th, 2013, the new version of microFIT 3.0 is launched, and Ontario residents can now again submit their applications to the OPA. A new 30 MW procurement target is in effect for the remainder of 2013, OR until that number in projects capacities is reached. Any unused capacity (if left), will be added to the 50 MW procurement target for 2014. Version 3 documents can be viewed online at https://microfit.powerauthority.on.ca/microfit-program-resources/version-3-documents