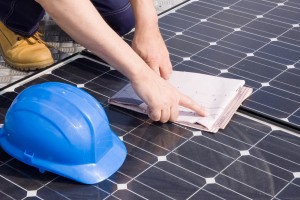 Even though we pre-qualify solar panels companies, it is important for you to get accustomed with each installer yourself. A professional company will perform your site assessment, shading analysis, provide you with a solar modules layout, quote and financial analysis of your solar investment.
Here is a list of some questions you might want to ask:

Do you have experience installing solar panel systems in Ontario? How many systems have you installed in Ontario?
Can you provide a list of past customers who would be willing to provide references?
Are your installers qualified to install the project? Do they meet all necessary safety regulations, licensing and certification requirements?
Are you registered with the Better Business Bureau?
Do you provide warranties on your labour and products?
Do you have general liability insurance to cover property damage or injury?
Do you have any pending or active legal judgements against your company?
Will you assess my property to ensure that the system is installed at an optimal location? For example, will you ensure that my solar panel system is not in a shaded area?
Will you order all the required equipment for the project? What is the full cost of the total installation?
Is there any fees that are not included on the quote?
What are the ongoing operating and maintenance costs I can expect and who will be responsible for them?
Will you arrange for all necessary approvals and permits? This includes:

Building Permit(s)
Offer to Connect from the Local Distribution Company (LDC)
Authorization to Connect from the Electrical Safety Authority (ESA)
Renewable Energy Approval, if required.

Will you work with my Local Distribution Company to arrange for connection to the grid? This includes:

preparing the connection configuration diagrams
arranging for payment of the connection costs
helping prepare the connection agreement with the local distribution company
arranging for installation and testing of the meter.

Will you help me prepare my microFIT Program application?
Next steps
Now you know what to inquire from a solar panel company. To get in touch with leading solar panel installers in Ontario, fill out the request for quotes and proposals.